Enjoy the best design and function combined together
EMF Planner is a simulation software designed for modelling, analysing and visualising EMF exposure from any radio transmitter – mobile phone base stations of any standard, TV and radio broadcasting stations, terrestrial satellite stations, PtP, PtMP, Wi-Fi, etc.


EMF Planner is an internationally adapted version of the software SanZone, in a partnership between the CTT – Center of Telecommunications Technologies, leading electrical, electronics and telecommunications engineering software company that has been in the market for over 20 years, and PuglieseProgettazioni, which is also the sole official global distributor.


A few things we're great at
Calculation of the electromagnetic field level using the point source method according to ITU-T Recommendation K.70 (2020) "Mitigation techniques to limit human exposure to EMFs in the vicinity of radiocommunication stations"
and related IEC 62232, b-EN 50413, IEC/EN 62311, ITU-R BS.1698 and ITU-T K.52 "Guidance on complying with limits for human exposure to electromagnetic fields" .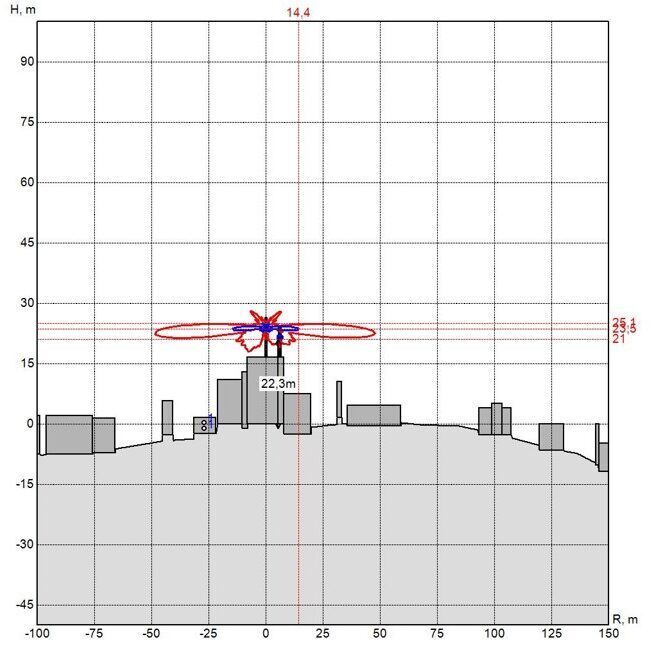 Calculation and visualisation of vertical EMF isolines, with the possibility of taking building wall attenuation into account.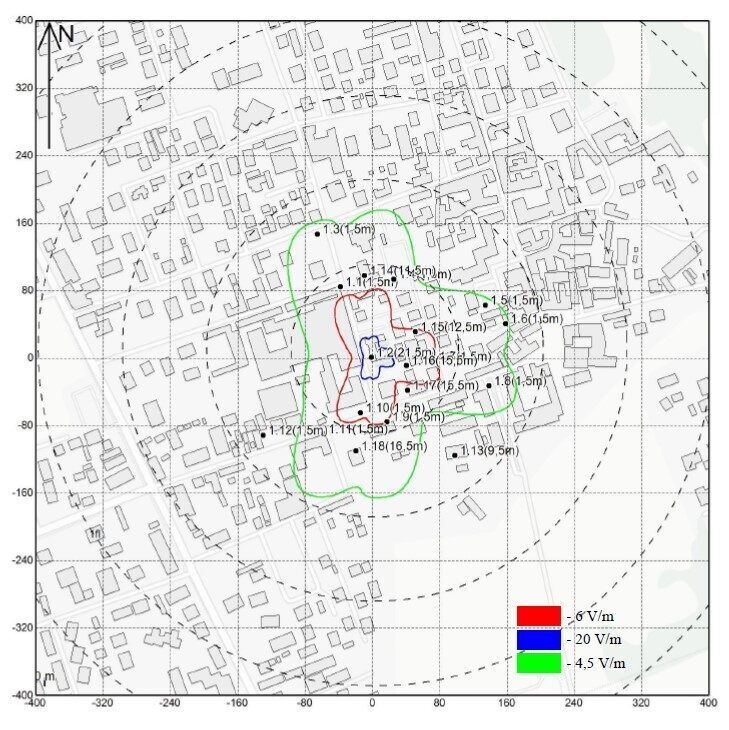 Calculation and visualisation of horizontal EMF isolines, with the possibility of taking building wall attenuation into account.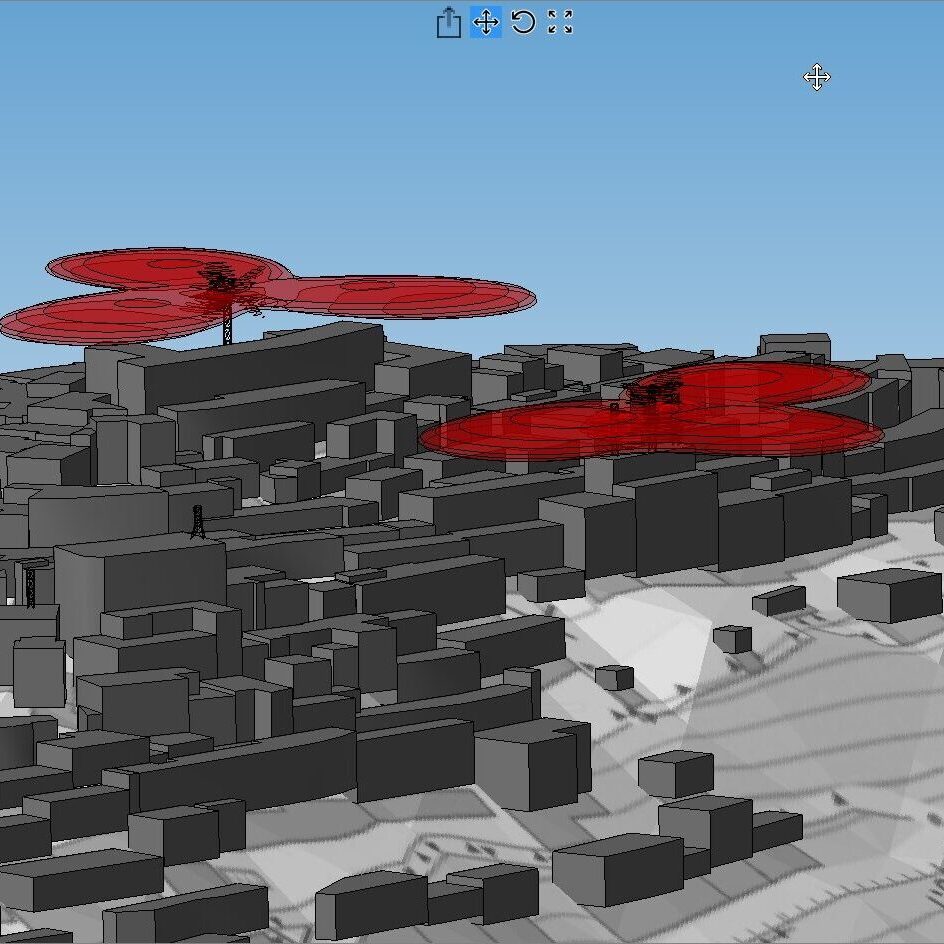 Dynamic three-dimensional visualisation of isovolumes, with customisable em field thresholds.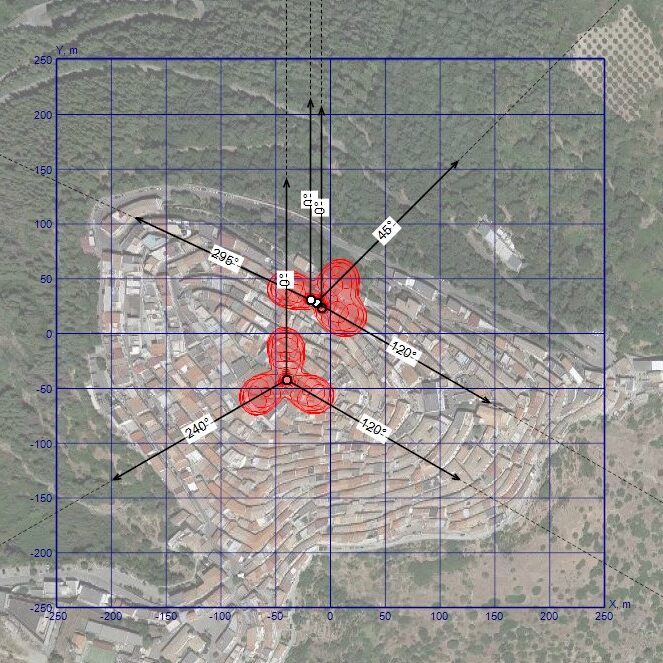 Interactive connection with multiple geographical databases, no need to import orthophotos or digital terrain models from external sources.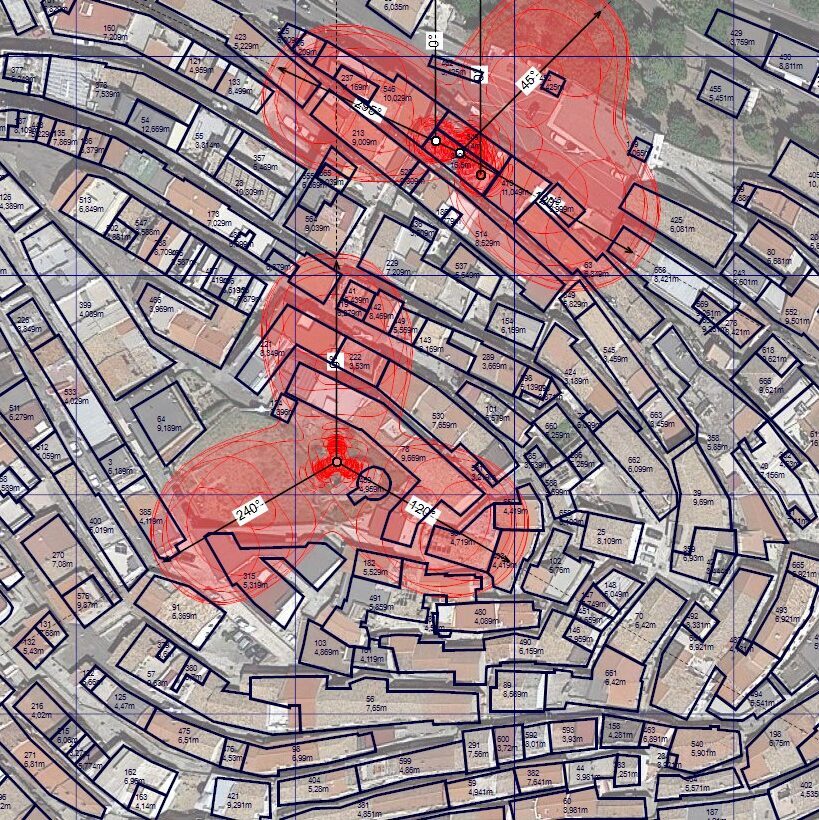 Building information is essential for the electromagnetic impact analysis; buildings can be created manually, or imported in bulk way from external data.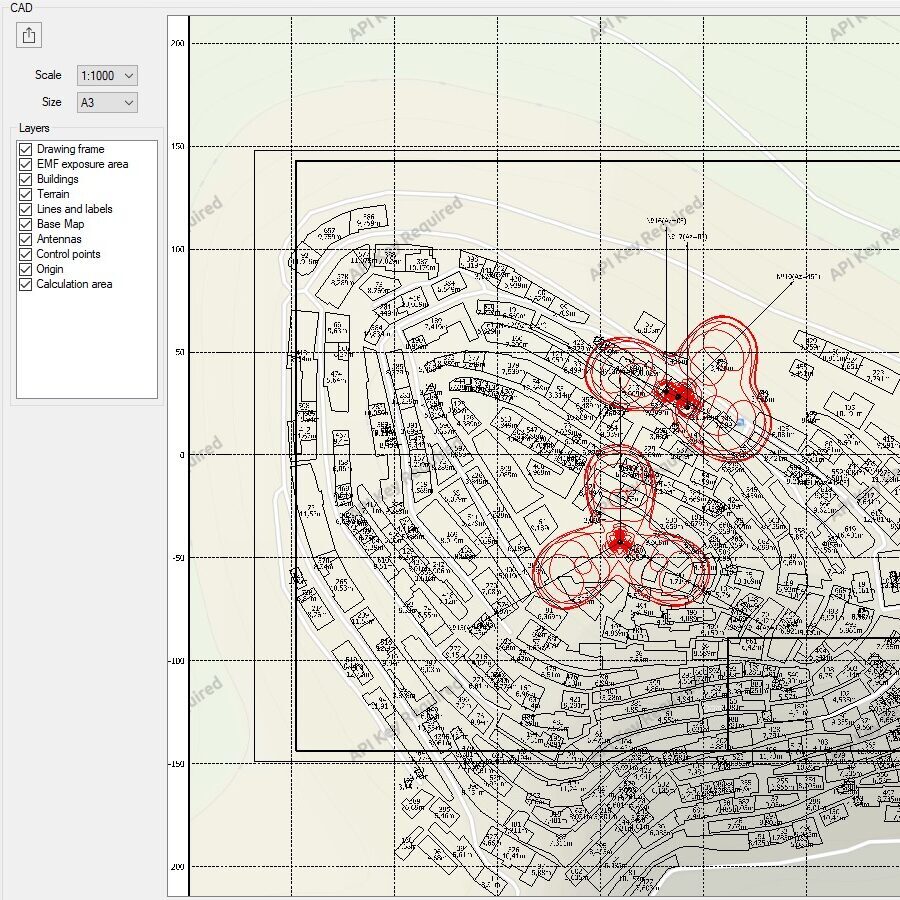 All outputs are exportable in DWG format for use with CAD or GIS systems.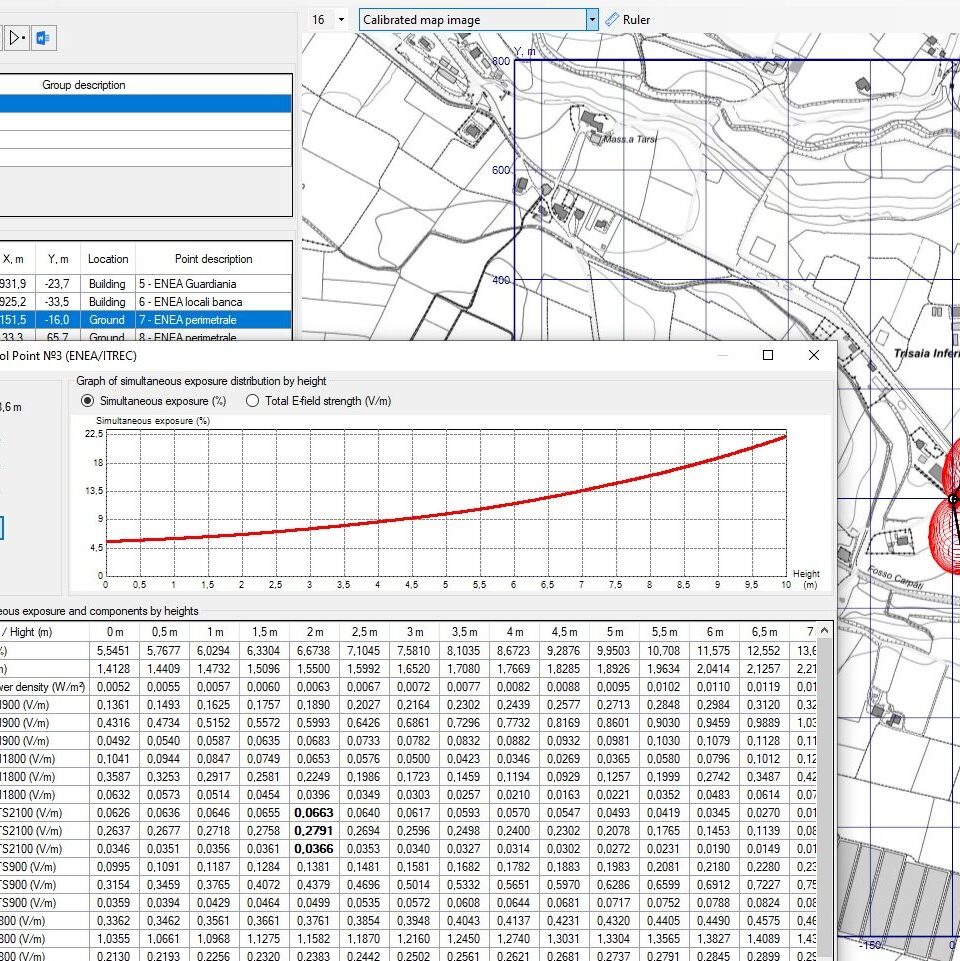 EMC calculation at checkpoints
Tool for defining and calculating EMC at arbitrary points, with the possibility of taking into account wall attenuation and varying height above ground.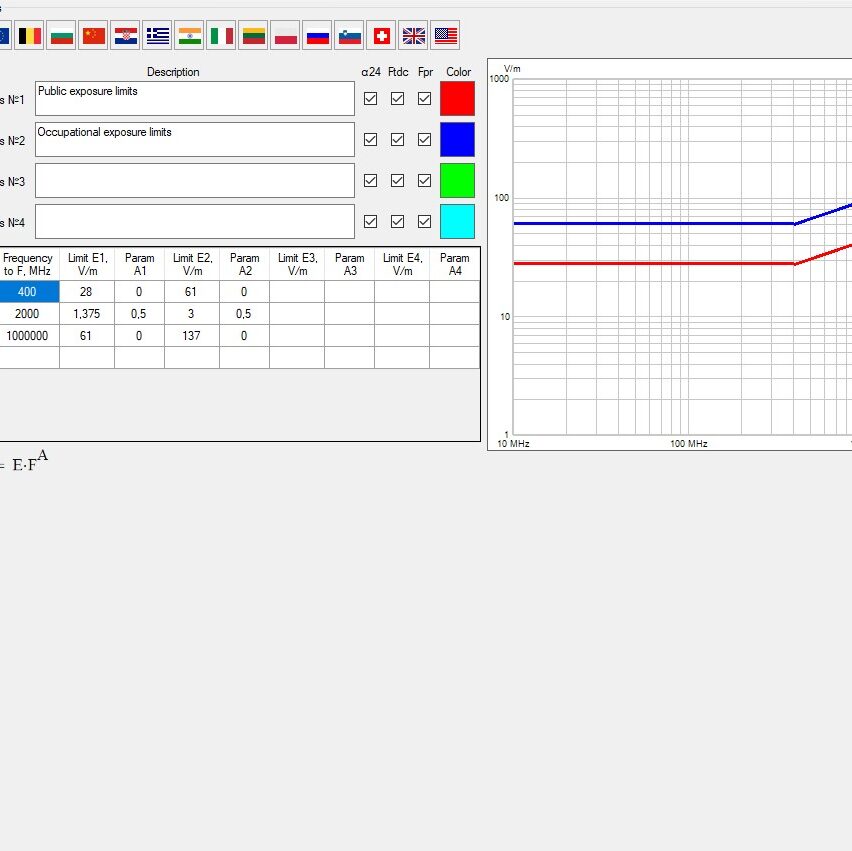 Customisable EMF limits, and preset to take into account the different thresholds set by different national regulations (always being updated). It is also possible to set power reduction coefficients according to current regulations.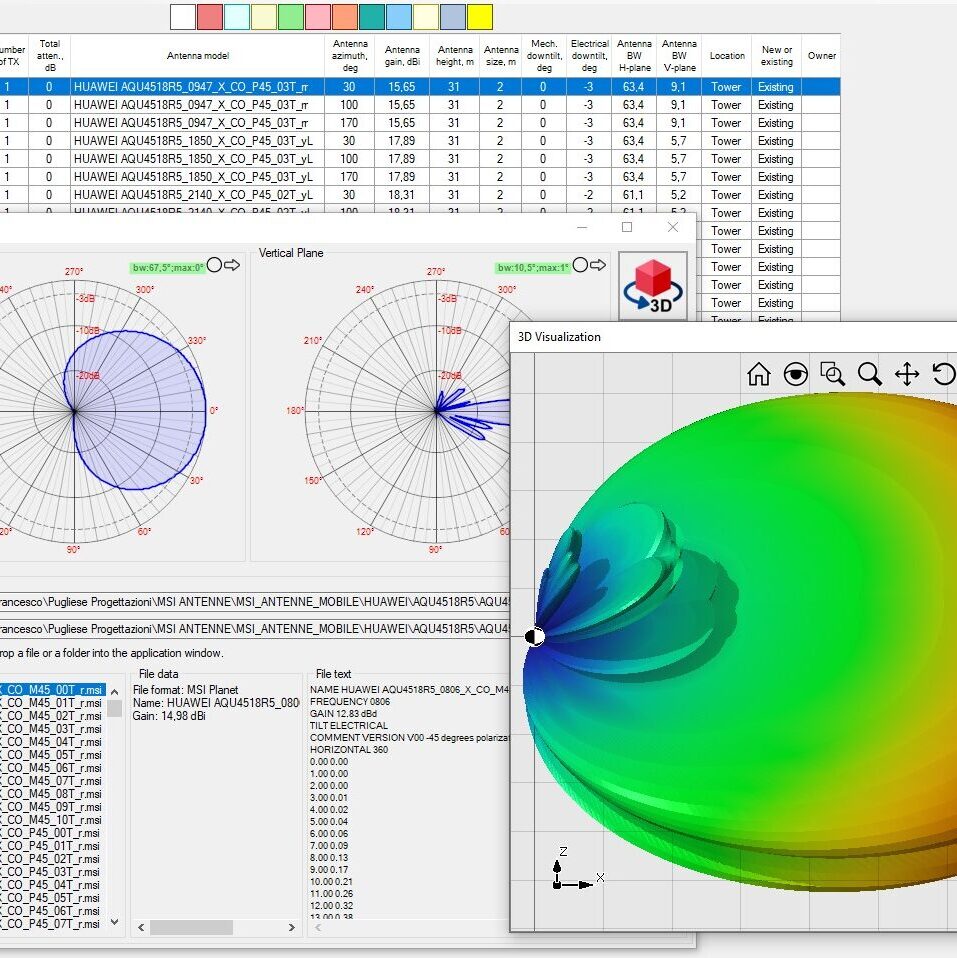 Integrated antenna file manager
Integrated utility for visualising, editing and performing format conversion of antenna radiation pattern files, with the possibility of calculating the envelope pattern for beamforming systems.
Safety and reliability: we have been dealing with the development of technical software in the field of electromagnetism for 20 years.
Cost and time effective: EMF Planner has been expressly designed to speed up the processing time of calculations and reports, so design changes and optimizations will no longer be slow and exhausting procedures.
We are experts in this topic: we work every day with electromagnetic fields evaluation, so we know and anticipate in detail the problems and needs that may arise for those who use a software tool like this.
Assistance and consultancy: the customer is not left alone in front of the software, but is provided with all the necessary consultancy and technical assistance to avoid blockages or downtime in the workflow, a helpdesk is also provided for any critical issues inherent problems with the software.
Book your live demo! It's free
Write to us to request information or to book a demo session of the software, indicating your name, contact details and any other request you deem useful. We will indicate one or more dates and times when the demo session can be held, which will be on a Skype platform and during which you can interact and ask specific questions.
EMF Planner is distributed exclusively by PuglieseProgettazioni.

The offer consists of an unlimited software licence and consultancy and assistance in the use of the software for 1 year from the date of purchase, with a predefined carnet of remote assistance sessions.
In addition, it is possible to purchase an 8-hour online course in which the functionality of the software is explained step by step and with practical examples.
A further service provided by our Technical Office, which can be purchased in addition, consists of providing files that can be directly imported into EMF Planner with the 3D buildings (position, volume and height of buildings) from shapefiles (or equivalent vector formats) provided by the user, with a predefined supply carnet.
The fields in the form marked with (*) must be filled in.
The quote will be delivered to the email address provided as soon as possible. If you will not receive it in a short time, don't forget to check your spam folder too!

Why do I have to enter all these data for a quote?
We don't want simply to show some price tag, but we try to establish a personalized and special relationship with our possible future customers, trying to get to know each other better right away and to better meet the different needs depending on the sector of activity.
In addition, the quotation we issue is already immediately usable to place an order if it is accepted and, due to the different tax regulations of the various Countries, we need this data to already provide a complete quote that takes into account the different costs or taxes.
All data entered will be treated in a completely confidential manner and in accordance with current legislation (GDPR EU Regulation 2016/679).
With the request for quote, you will receive information exclusively through links to dedicated pages on our website puglieseprogettazioni.it .
NO OTHER PAYMENT CHANNELS ARE PROVIDED, SO NO DATA OR BANK DETAILS FOR DIRECT PAYMENTS WILL BE EMAILED.
EMF Planner can be installed with Windows 7/8/8.1/10/11 64-bit.

To use all EMF Planner features, the Microsoft Word and Excel must be installed on the computer.
The minimum computer configuration is 64-bit Windows, Core i3 CPU, 4GB RAM, 200GB HDD, video card, and monitor with support for 1920×1080, although the program can be installed even on a less productive computer.
The recommended computer configuration is 64-bit Windows, Core i5 CPU, 16GB RAM, 256GB SSD, video card, and monitor with support for 1920×1080.